support the community you serve every day
At Habitat for Humanity, we believe in partnerships that are mutually beneficial. We know that our partnerships yield tremendous benefits for Habitat for Humanity, we strongly believe our organization becomes even better when we offer additional value and benefit to our partners. Whether it's through Community Partner Home Sponsorship, Lending Partnership or the Community Contribution Tax Credit Program (CCTCP), companies that sponsor our Habitat for Humanity homes benefit by supporting community involvement in a mission that helps stabilize local families.
For the 2nd year in a row, the Harris Poll recognized Habitat for Humanity as the most trusted and well know social service brand, in the world. This is not only a huge accolade for Habitat for Humanity, but it also greatly benefit's the companies who partner with us. Partnering with Habitat for Humanity also provides opportunities for a company's employees to engage in positive team-building activities and research shows that companies who allow their employees to get out of the office to volunteer, it promotes a healthy, happy and MORE productive workforce, yielding better results and more success in their business. Finally, we understand that consumers, clients and business partners are much more likely to do business with companies who embrace a culture of philanthropy among their workforce and through their community involvement.
To secure your corporate sponsorship, please contact Jenny Gonzalez-Bohnert at jgonzalez@habitatpwp.org or at (727) 536-4755 ext. 230.
corporate partner home sponsorship
One way for businesses to participate in constructing a home in partnership with a limited-income family and Habitat for Humanity is Corporate Partner Home Sponsorship.
FULL & PARTIAL HOME SPONSORSHIP
Sponsor Benefits vary by level and contribution amount. For information on additional levels of support and benefits, please contact Jenny Gonzalez-Bohnert at jgonzalez@habitatpwp.org.
abe's place
American electronics
bank of america
bankers financial
banning lumber & millwork
bezt
chapman family foundation
clearwater toyota
Collins charitable foundation
crown automotive
culver trust
dana beck fancher foundation
ellmar foundation
eric cash
florida forest products
frenchy's clearwater restaurants
friendly kia
hooters
hsn
investors title
jeff and judy Mitchell
kanes furniture
kitty handwerk
kohler
kolter land partners
lokey charities
lynn skelton
maintenx
marine max
mid-atlantic finance
Michael and Carolina Holtz
one community now – patti templeton
parkshore grill
pinch a penny
Pinellas community foundation
Potthast Design
power design
prosource
publix super market charities
raymond james
tampa bay rays
steve and Shirley dehmlow
the hangar
Thomas hughes house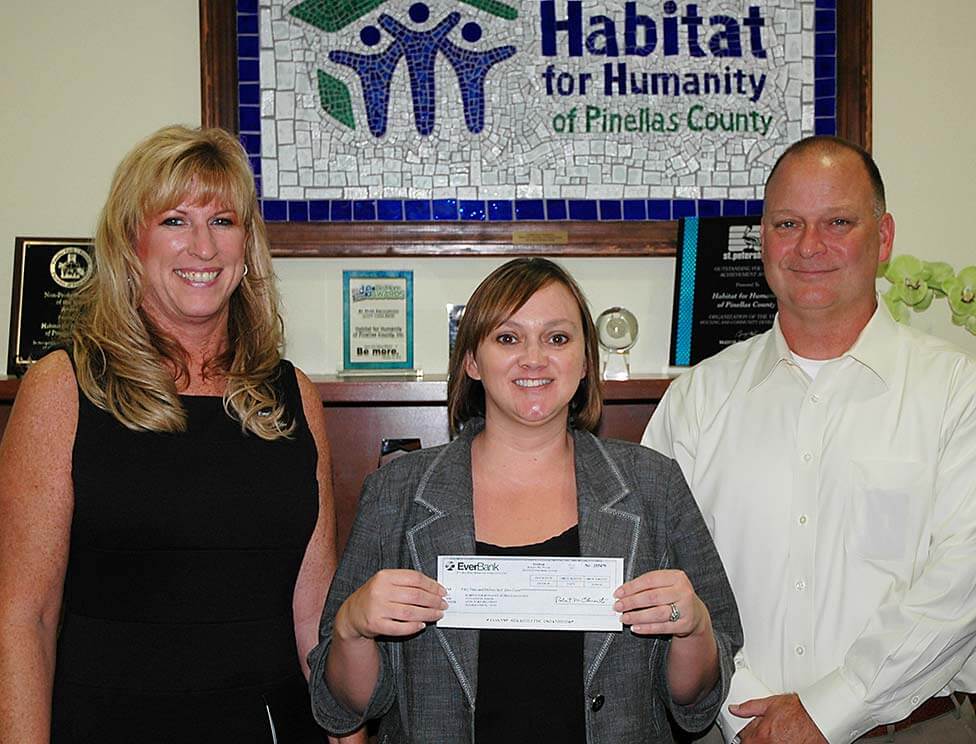 A way for banks to partner with Habitat for Humanity to provide sustainable and affordable housing for limited income families while earning their required Community Reinvestment Act (CRA) credits are Lending Partnerships.
Partnering with us through the purchase of Habitat Pinellas and West Pasco mortgages allows us to leverage our mortgages to build more homes and help more families. Because we want you to be able to maximize your Community Reinvestment Act (CRA) credits and other benefits that may be available to you, we are able to provide flexibility in how we structure the sale in order to meet your company's needs.
For information on becoming a lending partner, please contact our Finance Office at 727-536-4755.
CURRENT BANKING PARTNERS
Raymond James Bank, Valley Bank, Republic Bank, Beach Bank, Pilot Bank, First Citrus Bank, First Horizon Bank (formerly IberiaBank)
community contribution tax credit program (CCTCP)
Corporate Community Tax Credit Program (CCTCP) provides financial incentive (50 percent tax credit) to encourage Florida businesses to make donations toward community development and housing projects for limited-income families. The program is based on Florida Statutes (sections 212.08 (5) (q), 220.183 and 624.5104).