Through the Habitat Speakers Bureau, organizations can speak to subject matter experts on topics including the history of the Habitat for Humanity, benefits of the homeownership program, how to be an advocate, and more.
Topics include but are not limited to:
The Habitat Difference: Benefits of the Habitat Homeownership Program
The History of Habitat for Humanity
Impact of Habitat Pinellas and West Pasco in Your Community
How to Get Involved: Volunteer Opportunities
Securing Our Future: Sponsorship Opportunities & Events
Advocate: How to Become an Advocacy Ambassador
Culture Code: How We Habitat
Scroll Down and click individual headshots to view a list of speakers and learn more about their areas of expertise, find short biographies and high-resolution photos that can be downloaded for immediate distribution. Habitat encourages organizations to take advantage of the exceptional level of expertise available through the Speakers Bureau.
Mike Sutton is the President and Chief Executive Officer for Habitat for Humanity of Pinellas and West Pasco Counties, where he has served since March 2014. As CEO of a $25M nonprofit organization, Mike provides leadership and oversees the continued delivery of the Habitat for Humanity mission of partnering with people in need to build and renovate decent, affordable housing in Pinellas and West Pasco Counties. His passion for serving families in need and for building community partnerships drives the success of the 2nd highest performing Habitat affiliate (of 1,100 Habitat affiliates in the U.S.) based on new home construction each year.
FULL BIO COMING SOON!
Gabriela "Gaby" Camacho has been with Habitat since 2009 and currently serves as our Chief of Construction. Gaby is a trained architect and holds a Master of Architecture (M.Arch.) from the University of Colorado – Denver. She has over two decades of experience in the construction industry, including project design, senior project management, lead procurement, and other executive-level related responsibilities. In her current role as Chief Construction Officer, she is responsible for all aspects of our organization's construction services, including strategic vision, pre-development, design, budgeting, procurement, permitting and planning. Her department has an annual budget of over $10,000,000 and maintains consistent on-time delivery of construction projects. Throughout her tenure, the Construction Department has experienced 300% growth and currently completes over 60 homes annually. She has previously served on the Recover Pinellas Board and has served on the City of Clearwater Neighborhood and Affordable Housing Advisory Board (NAHAB) since 2018. Gaby is viewed as a national leader within the Habitat network of affiliates and has assisted in crafting national construction policies for Habitat for Humanity International.
Kevin Dorsey became a Habitat Homeowner in 2021 and currently serves as the Program Recruitment and Engagement Coordinator for Habitat for Humanity of Pinellas & West Pasco Counties. He has worked for the organization for over a year. His main goal in his position is to keep the homeowner pipeline full and to continue to enlighten individuals about Habitat by opening their eyes to the possibility of being a homeowner like himself. His proudest moment with Habitat was when he had the opportunity to go to the Habitat Affiliate Conference in Atlanta to represent the Pinellas & West Pasco affiliate. He is also proud every time a pre-applicant qualifies for the program to start a new journey in life. Outside of work, Kevin is a youth minister at Judah First Christian Ministries and the Head Coach for Largo Elite Track Club. In his free time, he enjoys spending time with his three beautiful children and his wife of eleven years.
Sonja Felton is the Director of ReStore Operations at Habitat for Humanity of Pinellas & West Pasco Counties. She attended the University of South Florida where she earned her Bachelor of Arts in Economics. She also attended Southern New Hampshire University where she received her Bachelor of Science in Business Administration. She has over five years of experience in her field and has been involved with many organizations in the community including Leadership St. Pete Class of 2013, Leadership St. Pete Alumni Association (served on the Community Service Committee), City of St. Petersburg MBSK Youth Development Grant Review Committee (served as Vice Chair; Chair), Concerned Organization for the Quality Education of Black Students (COQEBS), Inc. (served on Board of Directors). Her main goal at Habitat is to increase sales at both of our ReStore locations. In her free time, she enjoys traveling, skiing, and fine dining.
Camila González has worked with Habitat for Humanity of Pinellas County since December 2016 where she started as Executive and Project assistant. She quickly rose through the ranks being promoted to office manager. Currently, she serves as the Director of Mortgage Servicing for the affiliate and is responsible for the oversight and compliance of all mortgages serviced by the affiliate.
Prior to Habitat, Camila worked at Tech Data where she found Habitat through a home sponsorship. While working there, she had the privilege of joining Habitat for Humanity of Pinellas and West Paso Counties on a global village trip to Malawi, Africa. Following that trip, she was adamant about finding a job within the affiliate, goal she achieved two years later.
A Colombian native, she moved to the United States in 2001 and has called St. Petersburg her home ever since. She is a member of the Mortgage Banking Association, an avid equestrian, and paddle boarding enthusiast.
Habitat for Humanity of Pinellas and West Pasco Counties is pleased to announce the hire of Jenny Gonzalez-Bohnert has more than 15 years of experience in fundraising, community engagement, membership recruitment, and sales to the organization.
Prior to joining Habitat for Humanity of Pinellas and West Pasco Counties, Jenny oversaw membership efforts at The Dali Museum, resulting in a 25% increase in membership revenue, the museum's largest increase year-over-year since its inception.
Jenny has been actively involved in Tampa Bay's performing arts community for several years, having dedicated herself to fundraising, community engagement, and sales at such renowned local art organizations as The Straz Center for the Performing Arts, Ruth Eckerd Hall, and the Mahaffey Theater.
While at the Mahaffey Theater, she played a pivotal role in the creation of the Bill Edwards Foundation for the Arts' Development team, building it from the ground up. During her first year, Jenny and her team increased membership from 50 to over 500 members.
Jenny holds a bachelor's degree from the University of Central Florida and received her designation as a nationally certified practitioner of Diversity and Inclusion from DiversityFirst. She has lived in St Petersburg for more than 20 years and looks forward to working with the team at Habitat for Humanity PWP to further their mission of bringing people together to build homes, communities, and hope.
Sandra Holmes is the Program Education Manager at Habitat for Humanity of Pinellas & West Pasco Counties and has worked here for over five years. She attended the University of Missouri where she received her Masters in Human Development and Family Studies. She has over 20 years of experience in her field and specializes in topics such as education programs, the Habitat homeownership program, and moving from emotions to action plans. Her proudest moment during her time at Habitat has been growing the education program to 25+ classes. Our affiliate now has a program that other affiliates now want to learn about in order to grow their own and a lot of that is contributed to the accomplishments of Sandra. She was recently accepted into the Leadership Pinellas Class of 2022-2023. In her free time, Sandra enjoys photography, being outside, reading, listening to music, and going on adventures.
Brittney Keene joined the Habitat for Humanity staff shortly after successfully completing the Habitat Homeownership Program. She has been with the affiliate for four years and she now serves as the Homeowner Candidate Support Manager. In her role, Brittney provides direct support to 100+ homeowner candidates from their acceptance into the program through their closing. As a Habitat homeowner herself, she is a resource to future homeowners and supports them through monitoring their education and sweat equity requirements, while working closely with the mortgage team.
Brittney, a St. Petersburg native, says her admiration for education comes from her Grandfather the late educator Cecil B Keene Sr. who dedicated his life to education from 1958-2008.
Sean King is the Vice President of Government Relations and has been with the affiliate since April of 2018. In his role, Sean is responsible for the affiliate's comprehensive, proactive government affairs strategy that advances our mission and goals with local, regional, state, and federal elected officials. Additionally, Sean oversees compliance activities in relation to governmental funding/contracts as well as pre-development management for larger developments. He has almost two decades of experience in the human services field, specializing in service delivery and system coordination.
Sean is a positive, energetic, hands-on leader who is able to engage and communicate with a wide range of stakeholders. He has considerable experience with affordable housing policy, government relations and affordable housing funding sources. Sean has presented on affordable housing policy or advocacy related topics on countless occasions, including for statewide organizations such as the Florida Housing Coalition and the Florida Black Caucus of Local Elected Officials and at the Habitat for Humanity International – National Conference. Sean also serves the community on a multitude of boards and committees, including Pinellas Homeless Continuum of Care, Pinellas County Affordable Housing Advisory Committee, City of St. Petersburg Social Action Funding Committee, Grow Smarter Steering Committee and Community Foundation Tampa Bay Pinellas Leadership Council.
Personally, Sean is a lifelong Pinellas County resident and currently resides with his wife and son in St. Petersburg. He possesses an undergraduate degree in Human Services as well as a graduate degree in Mental Health Counseling from Springfield College (MA). Sean is also a proud alumnus of Leadership Pinellas (c/o 15'), past Chair of the St. Petersburg Young Professionals and was honored by the Tampa Bay Business Journal in 2017 with the 'Up and Comer' award. When not discussing affordable housing policy, Sean is a diehard Tampa Bay Rays fan and a season membership holder. He is always happy to chat affordable housing policy, hometown Tampa Bay Rays baseball, Lightning hockey or Bucs football.
FULL BIO COMING SOON!
Pamela is a dedicated CPA with over 14 years of experience in both the private and public sectors. She has spent her career developing and implementing financial systems, strategies, processes, and controls to improve efficiencies and compliance. Before joining Habitat, Pamela led the finance team for FASTer Way to Fat Loss, the fastest growing company in Tampa Bay in 2019 and the number-one fastest-growing privately held digital fitness and Nutrition Company in the country. She joined the Habitat team in 2020 as CFO and is directly responsible for overseeing the organization's financial operations. This includes managing an over $18,000,000 annual budget, overseeing long-term financial planning and cost management in alignment with the strategic plan, GAAP-based financial reporting and management of annual independent auditing. Pamela is Certified Public Accountant and formally a Certified Fraud Examiner. Her background and track record brings a new dynamic to our team and complements the significant growth of the organization over the past 5 years.
Robyn Liska joined the Habitat for Humanity Pinellas and West Pasco team as a Regional Director for West Pasco, November 1, 2021. Robyn has over 13 years of non-profit relationship development management expertise with two National Non-Profit organizations, The American Cancer Society, as Sr Director of Community Engagement and the Alzheimer's Association, as VP of Development, and most recently the Director of Development for AmSkills, Inc., Workforce Training and Apprenticeships serving Pasco, Pinellas, and Hillsborough counties. Prior to entering the Non-Profit world, Robyn was a National and Regional Makeup Artist and Event trainer for the Estee Lauder, Inc. companies and managed multiple Million-dollar retail counters for both Dillard's and Macy's in the Clearwater, FL area.
Robyn was born in Southern Illinois, completed an Associate in Business program at John A Logan College and continued education at Indiana University. Robyn has lived in the North Pinellas and West Pasco County areas for over 29 years, is an active member of Rotary International and current Board member of Rotary Club of Holiday, Greater Pasco Chamber of Commerce Ambassador and member of the Board of Directors, Treasurer of the Board of Directors for the End Recidivisim Project Extreme and serves on multiple fundraising and civic affairs committees throughout her community.
Her greatest achievement is being the mom to her son Joseph and watching him succeed and grow in both his personal and professional life!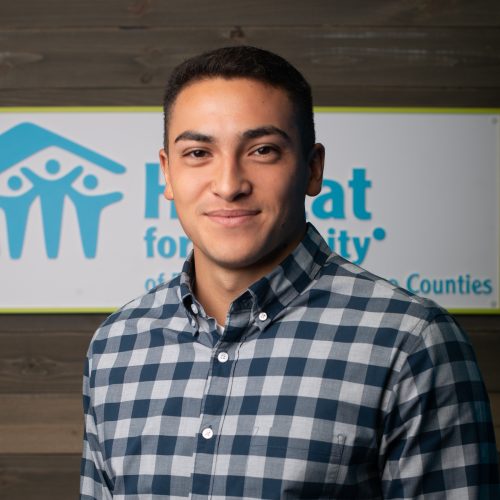 Xavier Oliver is the Volunteer Program Manager at Habitat for Humanity of Pinellas & West Pasco Counties. He is an alumni of the University of Tampa where he earned his B.S. in Marketing and his Masters in Business Administration. He also earned his Certificate of Leadership from the Nonprofit Leadership Center of Tampa Bay in 2022. At Habitat, his main focus and goals are to engage new and diverse volunteers, increase volunteer engagement in communities we build in, and to grow the entire volunteer program. Xavier feels the most proud at Habitat whenever he sees a family receive the keys to their brand new home that they've worked so hard for! In his free time, Xavier enjoys being active outdoors by going to the beach, riding his bike, or playing golf.
FULL BIO COMING SOON!
Jack Shanks is the Chief Program Officer at Habitat for Humanity of Pinellas & West Pasco Counties. He has been with the organization for five years and has been in his current position for three. As CPO, Jack's main goals are to increase the number of households served, create more informative and abundant educational classes and resources, and ultimately produce an increasingly successful homeowner. His proudest moment at Habitat so far was the first home dedication that he attended. It made him realize the true impact of what Habitat does everyday. Witnessing the new homeowner realize the dream of homeownership has served as a driving moment for Jack and a catalyst for him to help others achieve the same success. Jack is involved in many community groups, including serving as the Former President of the Kiwanis Club of Palm Harbor and the Current President of Harbor Hills of Palm Harbor Homeowners' Association. He is Alumni of the Leadership Pinellas Class of 2020-21 and was recognized as a Heroes at Work Nominee in 2018 by the Tampa Bay Business Journal.
Todd St. John-Fulton is the Chief People & Culture Officer for Habitat for Humanity of Pinellas & West Pasco Counties. He has worked at Habitat for over three years and has been in the Human Resources field for approximately 15 years. He studied at the University of South Florida where he received his Bachelor of Arts in General Studies. He has continued a strong relationship with his alma mater and currently holds a position on the Board of Directors for the USF Alumni Association and also holds the role of Co-Chair for the USF LGBTQ+ Alumni Society. Todd is also involved with many other community groups, including Suncoast HR and The Society for Human Resource Management where he obtained the status of Certified Professional. Todd's proudest moment so far at Habitat was when he assisted in rolling out the Culture Code: How We Habitat. He believes it was the catalyst to organizationally change the culture to be so much better than in the past. His ultimate goal at Habitat would be to see the affiliate be an employer of choice in the region. He would love for the community to recognize the affiliate as not just an employer with great benefits, but an employer that people seek out and actively want to be a part of. In his free time, Todd enjoys bowling and hanging out with his husband and three dogs.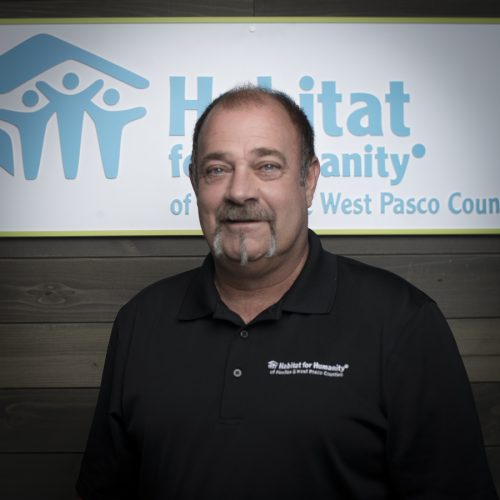 Rick joined the Habitat team in 2010 and brings almost three decades of experience in the construction industry. He has a myriad of experience, which includes; general contracting, site supervision, specialization in historic restoration, project management, staff training and construction safety. Currently, Mr. Vail oversees all site supervisors and manages Habitat's daily construction activities. He has overseen or been directly involved with over 300 Habitat builds since joining the team.
To request a speaker, please fill out the form below. For further information on this program, please contact Morgan Brochetti, Chief External Relations Officer at mbrochetti@habitatpwp.org or 727-536-4755 ext. 203.