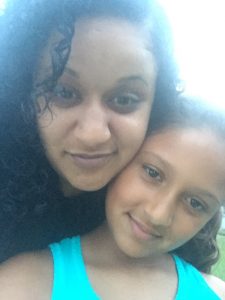 "Habitat for Humanity is an organization that has completely blown my mind. Their mission is to truly help families create a safe and stable environment for themselves."
Jessica Suazo is a Regional Service Coordinator who has been working at MaintenX International for about two years. She is a single mother to her 12-year-old daughter, Aleah, who loves music and dancing. Aleah hopes to join a dance team in the near future! The mother-daughter duo is kind-hearted and loves to help other people. Jessica describes herself as very strong-minded, outgoing, and goal-oriented. When she sets her mind to accomplish something, she wont give up until she has reached her goal. When it comes to Habitat for Humanity, Jessica has worked so hard to get accepted into the program and will continue to reach her goal of homeownership through sweat equity and various homeowner classes.
For the past few years, the Suazo's living situation has been rough. Most of Jessica's family lives in South Florida or out of state, so family support has been lacking. "I have tried my hardest to provide my daughter with a stable home and her own room. Unfortunately, due to how high rent is, I've had to resort to living in very dangerous areas." Their current apartment has has mold problems since they moved in, multiple drains clogged, and walls caving in from water damage. She has also has to spend money on take-out for meals because her stove has been broken since she moved in. "I just want to be able to give my daughter a stable, comfortable, safe home. I want to be able to provide her with her needs and wants without having to worry if I can pay all of my bills. "
"My first thoughts when I was accepted into the program was how blessed and grateful I am, to be able to have the opportunity to provide my daughter with a home she can call home for years to come. A home she feels safe in, where she can grow up and become the best version of herself. An environment where she can go outside and be a kid and ride her bike which she loves to do, without me worrying about how dangerous the area is. "
Jessica's employer, MaintenX, has been a long time supporter of Habitat for Humanity of Pinellas and West Pasco and has sponsored four homes so far in our community. The company hopes that the Suazo home will be their fifth. You can read more about MaintenX and their work with Habitat here.
If you or your business is interested in donating or sponsoring a Habitat home, please check out more information on our Donate Page.
"I'm most looking forward to making my house feel like my own. My daughter and I waking up and feeling a sense comfortability and peace, one can only feel at home."